[Please read the Privacy & Security Notice]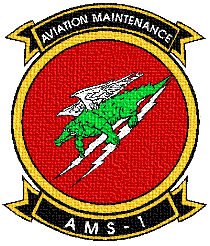 Aviation Maintenance Squadron One (AMS-1) is a subordinate unit of Marine Aviation Training Support Group (MATSG) located at the Pensacola Naval Air Station in Pensacola, Florida. The Squadron headquarters is located on the 2nd deck of the south end of Building 18 on East Avenue in the old Navy Yard.
Check out the newest webpage: Marine Aviation
Get the latest news about the Conflict in Kosovo from CNN
Draft of Commandant General Charles C. Krulak's
6 January 1998 Remarks to the USNA Leader's Forum.
POWER DOWN: General Krulak's Plan to
Empower NCOs and Junior Officers
Website Edited by: Sgt. Sean M. Bourgeois
Originally Created by: Major (Ret.) Robert A. Doss, Jr. (bio & photo)
---
Visitors since 7/21/97
---