INDEX
---
Squadron Information Links
---
Command Structure
Mission Statement
Squadron Policy
Squadron News
---
Links Relating To
Marines Their Families
---
Leave and Liberty
Composite Score Worksheet
Marine Corps Institute
American Red Cross Armed Forces Emergency Services
TRICARE Support Office
Active Duty Family Dental Plan
Financial Planning
Pay Scale
---
General Reference Links
---
Venerable Battle Phrog
MarineLINK
DefenseLINK Publications
Marine Corps Rank Chart
Marine Corps Uniform Regs
Marine Corps News
Leadership
Food for Thought
Manual For Courts-Martial
GOSPORT
NAS Pensacola Web Site
Pensacola.com
About Pensacola, Florida
-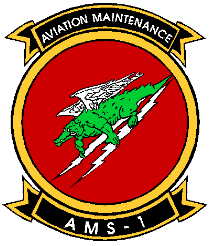 Aviation Maintenance Squadron One (AMS-1) is a subordinate unit of Marine Aviation Training Support Group (MATSG) located at the Pensacola Naval Air Station in Pensacola, Florida. The Squadron headquarters is located on the 2nd deck of the south end of Building 18 on East Avenue in the old Navy Yard.
This site is provided as a service to AMS-1 Marines and their families. The appearance of information here does not imply endorsement by the United States Marine Corps or by any of its components.
Marine Corps Response to the Kassebaum Baker Panel
(Federal Advisory Committee on Gender-Integrated Training)
Draft of Commandant General Charles C. Krulak's
6 January 1998 Remarks to the USNA Leader's Forum.
POWER DOWN: General Krulak's Plan to
Empower NCOs and Junior Officers
---

Visitors since 7/21/97
---